Introducing main functions of OpenTrade
√ [ Building up trustworthy relationships ]
OpenTrade is a vertical SNS for start-up ands angel investors, and a funding platform as well. The mutual trust is the most important factor for the start-up angel investing. By posting start-up business' process on your timeline constantly, the effort of start-ups can be piled up and growth can be proved.
√ [ Participating in funding ]
If the specific requirement is fulfilled on OpenTrade, you can try financing through crowdfunding.
√ [ Basic requirements to apply for crowdfunding ]
1. Funding applicant start-up should be incorporated
2. Interested investors of funding applyicant start-up should be over 30 people.
3. The days of joining OpenTrade of funding applicant start-up should be over 30 days.
4. Funding applicant start-up should complete its own Executive Summary, business model, team composition, differnce/ key capability, and intellectural property.
5. Funding applicant start-up should post management matters of the corporation on its timeline at least 30 times.
6. Milestione contents should be posted (Incorporation/Achievement of BEP included); 10 steps must be entered.
7. Representative video should be included. (Introducing corporation, products, or service)
Individual and corporate investor can invest in equity of start-up that is crowdfunding through 'participating funding'.
√ [ File upload ]
OpenTrade can express and introduce start-ups in various ways.
However, the platform itself has its limits to show start-up's creativity, potential, and furthermore excessive talent to investors.
Please express yourself in various ways like writings, images, proposals, videos, etc. on your timeline.
If you try hard enough, you will meed a good investor as your partner!
√ [ Portfolio ]
A core function of OpenTrade is the investor's 'Investment management' function. When an investor occupies shares of a start-up through crowdfunding, the start-up is automatically registered on the investor's 'Portfolio' list.
On the investors' own 'Portfolio', they can figure out the following:
1) Scale of my own investment
2) Current holding stocks
3) Start-up's current milestone achievement
4) Present sales records
The function of the portfolio can be confirmed together with including 5) the recent news of start-up along with 'interesting feed' in portfolio.
√ [ Feed of 'Interested' Companies ]
The 'Interested feed' function is offered to personal investor or cooperation investor. It would help you to understand when you think it is somewhat similar to the news feed in Facebook. As investor become a follower of business that was financed or following company, the current milestone achievement, all the writing on the timeline of the following company will be shown at a glance.
√ [ Writing on timeline ]
Listed company has a 'duty of public notice' to address business conditions, finance condition and etc. to general investors. This means, listed companies communicate with general investors through this public notice system. This system can also be divided into regular notice and constant notice. The point of companies posting their history is that it becomes a great tool to build trustful relationships with general investors.
To all start-up companies, please record internal and external work progress in the timeline! You will also be able to build a trustful relationship with general investors when your efforts are piled up on your timeline!
√ [ Business model – Explanation 1 ]
Start-ups can share their business model with investors. Start-ups can enter the nine blocks of Business Model Canvas in a storytelling style, simple as posting business information on a blog and share the contents as well.
Investor can learn about the company by looking at the keywords of the business model, and can learn its core value and vision that the start-up company is willing to realized through checking its business model.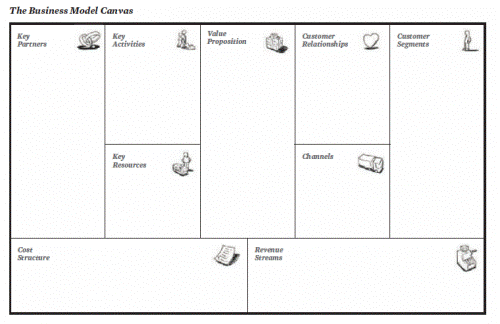 √ [ Business model – Explanation 2 ]
Many company founders receive the question, "Are there any good items?". However, investors know that a good business model is more important than good item through experience for a long time.
OpenTrade suggests classification of items and business models. In case of Business Model Canvas, 'Value Propositions' – 'Key Activities' – 'Key Resources' are the domain of items. This is because creating a new value by utilizing good resources is a good item.
Wouldn't it be a good business model when it can synthetically explain that to whom (Customer Segments) and through which channel can the good items will be sold, what kind of strategy (Customer Relationship) will be used in order to make one time customer to real client, how the revenue streams can be produced while delivering value, what the cost structure is to creat revenue and which partner(Key Partners) would be needed for retaining long-term listed.
The attached image [born of business model, by Alexander Osterwalder, Yves Pigneur] is the Business Model Canvas.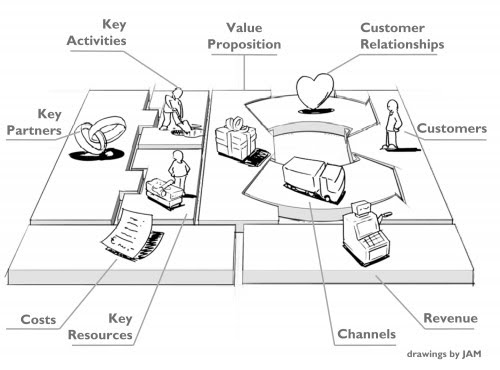 √ [ Team members ]
Individual investors commonly explain the reason they invest is 'I invested in the people'. As there is an old saying, 'Human resource is everything', the importance of start-up team members cannot be stressed enough.
On 'Team members', you can express each member and the CEO's profile and strength. Also, each strength of members can be shown with images on their timeline.
√ [ Intellectual property ]
Patent is defined as following in the public administration dictionary.
1) Patent in the law of public administration is that tempering the specific right for a specific person. In other words, it is the administrative measure for giving a legal power. As a legal term, it can be called permit · license · permission · recognition instead of patent. For the example of patent, there are patents of public enterprise, patent of using rights for tribute, set up the eminent domain, fishery license and etc. There is a legal property like fishery right or mining right, not a setting up right by patent or legal relationship within the public law.
2) The patent in patent law is an administrative measure that confirmed new invention for utilizing in the industry. Within the patent of broad meaning, a new utility model or registering a design · disposing notarization are included. The patent is a protecting system that promotes technology development, and preventing imitation from intellectual invention. It is normal for seeing patent in patent law as a confirmatory administrative act, but there is a view for seeing as a personal profit disposal.
On [Intellectual property], you can emphasize the rights you have of your core technology, such as your business model, idea, design and etc.
√ [ Differentiation/core competency ]
In order to have a successful business, strong competitiveness should exist. Start-ups can emphasize their ability in other areas than just their business model. It could be explained in simple sentence, and also in uploaded data.
√ [ Financial information ]
OpenTrade has been receiving uploaded financial information data quarterly at the end of each quarter(3, 6, 9, 12). 1) sales, 2) Profit, 3) net profit, 4) property, 5) debts, 6) capital are included in financial information.
Start-ups should upload financial condition with evidenced documents.
√ [ Follow / Following Start-ups ]
Individual and corporation investors can add favorite start-up in the list. It would be easy for you to understand when you think of the function as 'following'.
Investor can see 1) which milestone the start-up company achieved recently, 2) the result of sales for the recent quarter on the 'Favorite list' at a glance.

√ [ Reaching monthly BEP ]
For all start-up milestones, 'Reaching monthly BEP' will be included because start-up company has to possess ability to survive in the market in order to handle long-term business. The formula of BEP is 'total monthly sales - monthly total cost, in cash'. Certainly, depending on the nature of the business, achieving monthly BEP can be listed on the last step of milestone.
Reaching monthly BEP will be approved after start-up applies with financial data that includes at least 3 month history of their business.
√ [ Milestone ]
Big win is made when short win is gathered altogether. Please set up the milestone that you will pass through processing business, and let investors know where the business is at.
The milestone system is built to prevent frequent modification and change after more than one step of approval my the administrator. It is a set up intended to build long-term trust between start-ups and investors, so if you want to change or modify the milestone, please request is through timeline or help@OpenTrade.co.kr.
√ [ Various Return Strategies ]
The decision of investment should be with assurance of return. The attached table is data that explains various return strategies.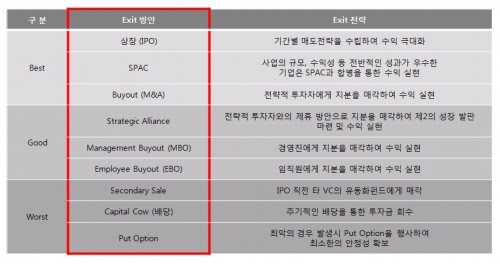 How to use OpenTrade
A. Preparing for crowdfunding
1) Registering for Incorporation
Only corporations(start-up) can process the crowdfunding in OpenTrade. Pre-entrepreneurs have to apply for crowdfunding after incooperation and individual business has to apply to crowdfunding after changing into a corporation.
2) Confirming article of association and board resolutions
There has to be a provision of evidence about the third person assigned ( new stock assigned except a stock holder) in the business confirming article of association on start-up that is applying to crowdfunding. Also, boarding has to finish the resolution about the third person assigned and inform the resolved contents to existing shareholders before applying to crowdfunding along with start-up's article of association.
3) Requirement of Selection Funding
√ Should be incorporated
√ There should be above 20 investor followers
√ It should be more than 30 days after joining
√ Should success the business model(Executive Summary, business model canvas, team members, differenciation/core competency)
√ Should enter management matters 'at least above 20 times' on timeline
√ Should enter all the concept of milestone(Must fill the establishing cooperation and achieving BEP at 10 stages)
√ Should add representative video (Introducing company, item and service)
4) Types of businesses that are not allowed to apply for funding:
√ Accommodations and restaurant business
√ Finance and insurance
√ Real estate business
√ Ballroom business
√ Golf and ski resort
√ Other gambling and betting businesses
√ Other Individual service businesses (excluding industrial laundry business)
√ All industries besides manufacturing that OpenTrade's Business Evaluation Team limits shall be compliant with OpenTrade's Business Evaluation Team's regulations.
B. Applying crowdfunding
1) Funding application
If all the start-ups fulfill the requirement of funding application, crowdfunding can be applied in 'settings' anytime. (Contact: Open Trade Management +82-2-2051-9979)
If the funding is registered after funding applications, additional fee will be charged.
2) Company Due Diligence
When funding is applied, OpenTrade inspection team starts a due diligence of start-ups.
All the data uploaded in the OpenTrade will be the range of inspection. The finished inspection report will offer to interested investor after starting crowdfunding.
(Contact to: OpenTrade Business Evaluation Team +82-2-2051-9972)
[ Due Diligence Contents ]
Classification
Contents
Note
Date of register
Date of register above 30 days after register to OpenTrade on applying date basis.
Investor followers
At least above 10 people including investor followers,
personal investor and cooperative investor.
Business Model
Confirming all the writing on 9 concepts of the Business Model Canvas.
Team members
Confirming representative of organizing team and all the member.
Estimated income
statement
Examine the estimated income statement.
Differenciation/
core competency
Confirm differentiation/core competency.
Intellectual
property
Confirmation intellectual property apply and registration.
Timelines
Confirm all the timeline contents.
Basic due diligenct inspecttion cost 500,000 KRW(VAT excluded) is charged to applicant start-ups to crowdfunding.
(실사 기간에 따라 다를 수 있음)
3) Funding Period and Changing Requirement
Funding applicant start-up can decide on their funding period up to 60 days.
(Differenciation processing commission depending on the period.)
C. Participate in Funding
1) Starting crowdfunding
If the requirement of applied funding is fulfilled, the crowdfunding towards the OpenTrade personal investor and business investor can be processed up to 60 days after inspecting business. OpenTrade limit the financing by crowdfunding from at least 10 million won to 1000 million won.
3) Reason why OpenTrade Invest in Start-ups
√ To invest at early stage businesses that have high return on investment
√ To invest the highest possibility of new business model
√ To invest personal proficiency investor directly to start-up
√ To invest the foundation of friend, family, acquaintance
√ To invest to complete portfolio by diversified investment to early stage companies
√ For enjoying investing through constant communication with founders
√ For supporting activation of Korea start-up
4) Minimum and Maximum Amount of Investment
OpenTrade set a minimum investing amount which is differentiated by the situation of crowdfunding processed start-up. Yet, the limit of the maximum investing amount, investing limit will be proposed for protecting investor. However, corporation investor will be managed differently than that of individual investor.
5) Investing in Start-ups
"The start-up which is starting crowdfunding 1) Funding applied requirement all fulfilled 2) Due diligence completed by the OpenTrade Business Evaluation Team."
However, due diligence is the process of confirming the truth or presence of all the data uploaded on OpenTrade.
The funding status is indicated on the upper-right side of the start-up according to investment sentiment applying of investor. The actual funding obligation or transferring is not happened by entering the invest cost in 'Participating Funding'. Investor can cancel the participating funding in any time before the funding period is finished. However, if the funding is cancelled, cancellation list is opened for preventing thoughtless participating funding.
6) Investor protection
The OpenTrade is trying to build a system that can pile up trust with between investor and start-up in maximum transparent method. However, investing towards start-up has an investment risk autonomously. Therefore, it is recommended that investor do diversified investment to reduce an investment risk.
< The start-up investment security risk >
1. Lack of business experience and know-how
2. Highly dependence on executive
3. Long-term pay-beck period
4. Limited liquidity

7) Success or failure of funding
The success of crowdfunding follows the all-or-nothing rule at OpenTrade. This has the purpose of activating collective intelligence to protect investors, and to lower the possibility of failure by setting up the target amount too high without deep consideration.
The minimum cost to determine the success of the crowdfunding is 80% of applied target amount. If the funding does not exceed 80%, the funding automatically fails. If many investors apply to invest but does not reach the minimum amount, all the investor's investment intentions will be invalidated and investors do not hold any duty related to the funding.
8) Tax support
[ Small and Medium Enterprise Establishment Investment Association ]
Deduction requirement
If the resident invested from any of following, following deduction percentage is deducted of invested cost by composite income by 2014/12/31. However, if the investment is used by other's portion of investment or investing stock or taking over profit stock in case, the deduction is not happened.
(1) Amount of Tax Deduction
Qualified for deduction investment market
Income deduction percentage
√ Small and Medium Enterprise Establishment Investment Association
√ Korea Venture Fund
√ New Technology Business Investment Association
√ Parts • Material Specialized Investment Association
√ Revenue security through venture business investment trust
(Invests more than 50% of assets in venture companies)
10%
√ The case that the personal investment union invest to venture company by the end of following tax that includes the share issued date of the investment from the individual investment association.
√ The case of investing in a venture company
50% for investment below 50 million KRW
30% for investment above 50 million KRW
(2) Deduction limit

50% of total income amount


However, 50% is applied for investment starting from 2014 [Restriction of Special Taxation Act, Article 1]
(3) Farming and fishery special tax
20% of the deducted amount of calculated tax should be deposited as farming and fishery special tax investment of the deduction tax through Small and Medium Enterprise Establishment Investment Association.
(4) Method of deducted tax
One tax year is deducted from total income amount by the resident's chooice of a tax year including the issuance or investment date in the tax year or the tax year that includes the date 2 years since investment. [Example] If issuance or investment was made in 2009, investor can receive deduction for one tax year among 2009, 2010, 2011.
Amount of investment that can be applied as deducted tax by investing through individual investment association.

The amount of investment from resident that invested in individual investment association

The amount invested to venture company by an individual investment association

The total amount invested by an individual investment association
D. After succeeding in crowdfunding
1) If the funding period is expired by exceeding the 80% of applied amount of attracted investment of start-up added to the amount of investor's investment by crowdfunding, the crowdfunding will be considered as a success. (maturity bid) Or, if the investment application target amount of start-up reaches 100% before the deadline, the funding is considered as a success regardless of the remaining funding period. (early bid)
2) When crowdfunding is successfully completed, "investment contract package" will be sent by mail. Investment contract package consists of the following:
< Investment contract package composition >
√ Crowdfunding progress report
√ Start-up due diligence report
√ Actual investment contract
√ Copy of bankbook for payment of stock
√ Sample confirmation of unissued stock certificate

3) The investment contract must be based on an investment contract with the basic contents of common stock acquisition through a professional lawyer(Ehoo Law Firm), and considering the characteristics of crowdfunding, the following content must be added: 1) Periodic duty of publication, 2) Advanced notice when M&A occurs, 3) Unification of communication channel between company and shareholders.
4) When all payment of stocks and investment is finished according to the contract between investors and startups, OpenTrade must 1) Complete corporate registration of the deposited capital 2) Confirm sent sample of confirmation of unissued stock certificate and all processes are complete.
OpenTrade is…
OpenTrade is a new form of financing funding platform for start-ups in Republic of Korea. Crowdfunding came into the spotlight as a new financing method for start-ups not just in the United States, but worldwidely as JOBS(Jumpstart Our Business start-ups) had passed the final approval of U.S. government .
What is crowdfunding at OpenTrade?
It is a method of investment that collects funds that are needed for business through medium such as social media and the internet as it means to 'collect funds from the general public.' Appearance of crowdfunding is a natural phenomena in this time period where SNS such as Twitter are rising and average number of Facebook friends are over 200.
Start-ups need various kinds of support along with financing in order to be successful in business. OpenTrade is providing not only financing, but also necessary mentoring, recruiting, promotion and marketing that start-ups need. Strength of crowdfunding that OpenTrade pursues is that 'they gain more sponsors in making the business successful' more than 'collecting funds from general mass.'
OpenTrade is providing Business Model Canvas in order to develop business plan of start-up not just to an item, but to a long-term business model. Also, investors are able to find interested start-ups more easily as it provides united frame.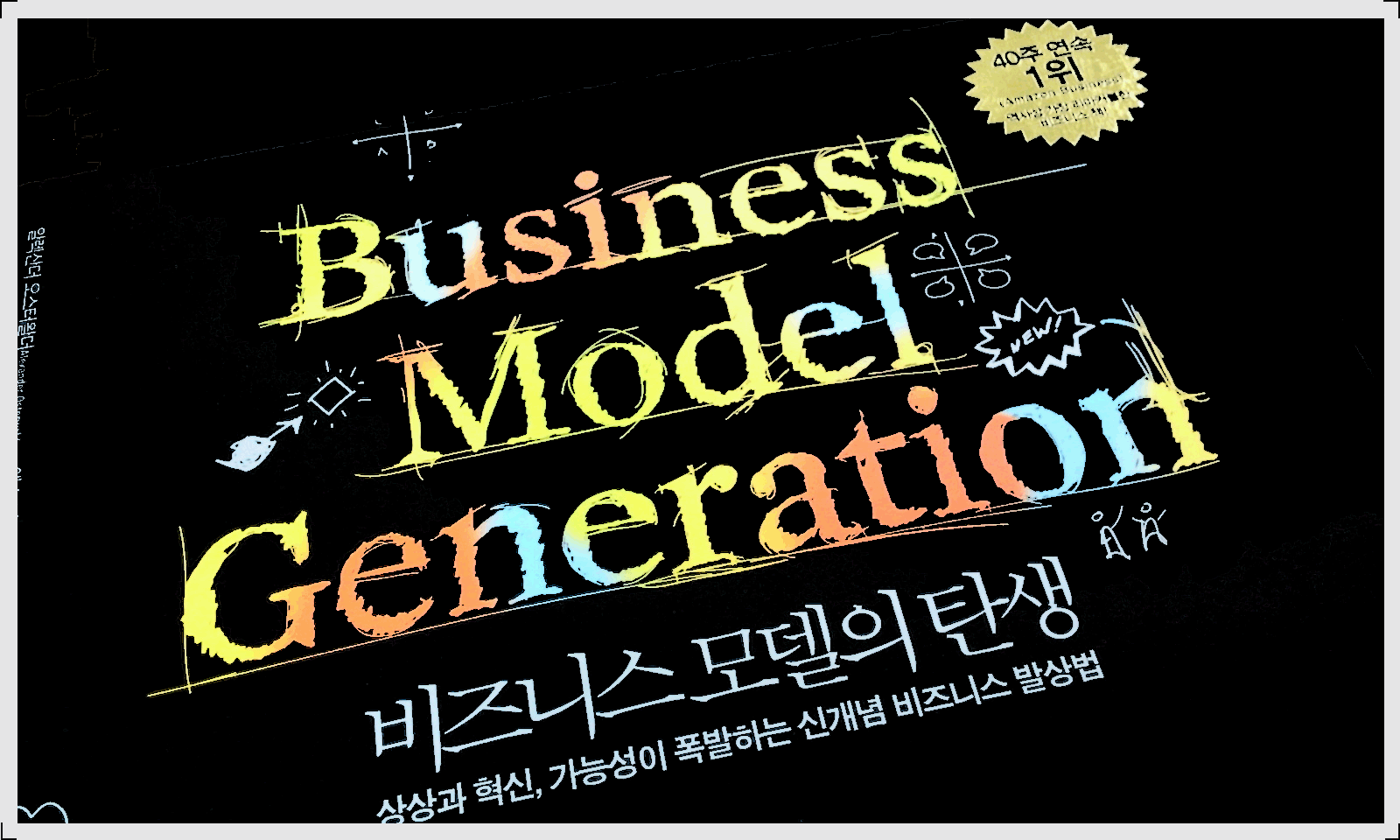 [ [Reference books: Business Model Generation, Osterwalder,
Alexander, Peigner, Ives/ Yu Hyo-sang, Timebiz ]
All start-ups can share their procedure of growth to investors in real-time, check process of business on its own as it receives sanction of writing and achieving ten milestones. It is a system that gives approval as it evaluates the achievement of milestone from the OpenTrade Operation Team and assesses and approves applications of 'achievement milestone approval' of OpenTrade pre-entrepreneurs or start-ups acheives.
Incorporation' and 'Monthly BEP Achievement' should obligatorily be included in milestons of all start-ups. This is because start-ups should be corporate body licensees in order to receive finance from outside. Monthly BEP Achievement' is required to be included in milestone because having ability to propagate is a base to possess continuity of the corporate.
◎ Comparison between OpenTrade and Existing Investment
OpenTrade is doing its best to transfer existing angel investment method to online naturally. Offline angel investment reach investment through sustainable communication as it starts with examination of business plan and be connected to the management afterward. Main function of OpenTrade is communication between timeline-using start-ups and communication and this can naturally transfer angel investment method to online.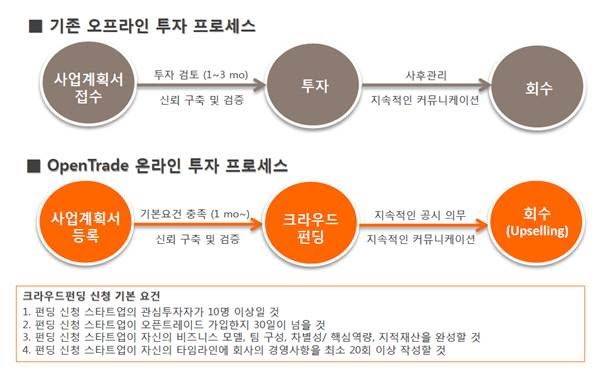 Crowdfunding can be divided to 1)Equity Investment Type, 2)Loan Investment Type, 3)Contribution Sponsorship Type. crowdcube.com, fundersclub.com, angelist.co of the U.K. including OpenTrade (OpenTrade.co.kr) is included to equity investment crowdfunding platforms; zopa.com, prosper.com, lendingclub.com are classified as loan investment types; and Kickstarter.com, indigogo.com are classified as contribution sponsorship types or reward types.
Frequently asked Questions
[ Membership Sign-up ]
Do I need to register as a member even if I only want to have a look at the site?
Opentrande is made for users to open data and do activities only when they register because it contains corporate activities of start-ups, investment information, and conversation between investors and group of mentors. It is convenient to register and log in through Facebook.
How do I register for the membership?
OpenTrade can do membership registration through simple procedure as it chooses one account among pre-entrepreneur, start-up, individual investor, or corporate investor through Homepage. If you are an ordinary user, you may register as 'Individual investor.'
I have lost my password. How can I find it?
If you put ID in the space where it says 'Find Password,' an e-mail that instructs how to find password will be sent to the e-mail ddress that you have registered when you first joined the member.
I would like to change my ID, How can I do it?
ID works as a key that can classify each users, so it is not allowed to change ID.
I have lost my ID, How can I find it?
If you have lost your ID, please do not hesitate to contact help@opentrade.co.kr, then instructions will be given.
Can you register without e-mail address?
Since ID is in a form of e-mail when you are registering for the membership, if you do not have e-mail, then you are not able to do membership registration.
Can you re-register right away after withdrawal of membership?
Users may not re-register within three months of withdrawal.
Is there any standard for compulsory leaving of a member?
Basically, it is based on a principle of constructing self-regulating ecosystem. However, if it is relevant to endorsement according to agreement of platform utilization, you may be disposed as compulsory leaving. Especially, fraud related to investment and posting of false information are also objects of compulsory leaving.
[ Pre-entrepreneurs, Start-ups ]
What is the standard of TOP 5?
It is in order of Activity Index.
What is an Activity Index?
Activity Index is what indexed the record of development at OpenTrade. The record of development that was built with posts from timeline takes up the most weight. Please work hard on the sactivities of start-up and the record of development.
What should I do in order to become a start-up?
In order to apply for funding in OpenTrade, the basic conditionality is to be a 'start-up' corporation. If corporation is not established yet, please register as 'pre-entrepreneur', refer to the activities of start-up, and build corporation. If you apply to change to 'start-up,' then OpenTrade will change the membership qualification.
What should I do in order to raise the Activity Index?
Please public relation posts related to corporate growth to the timeline. Securing many interested investors is also a good method.
What is an advantage of high Activity Index?
High Activity Index meanse that growth of corporation was actively publicized to many investors. Through this, start-up can secure credibility and clarity. Investors prefer these kinds of corporations and this may raise the rate of success for funding.
What is a disadvantage of low Activity Index?
There is no specific disadvantage just because of low activity index. However, the success rate may be low when applying for the funding, and may be far from the interest of the investors. It would be better if it is understood that activities on OpenTrade connects to self-regulating investment and cooperation ecosystem.
[ Individual and Corporate Investor ]
Is it possible to join as individual investor even if the amount of money is small?
There is no conditionality for membership registration and it is not relevant to the size of possible investment. Feel free to join and please become a supporter of start-up.
What are the disadvantages if I do not deposit investment money during the funding process period?
Investment application to funding processing corporation on the website conforms to 'investment inclination indication.' The investment should be deposited on the day of subscription as shceduled. If you do not keep the promise even if you have applied for investment on the site, then it would mean that you took away someone else's opportunity. Therefore, in this case, corresponding user will receive disadvantage of not being able to invest for three months.
How can I manage after the investment?
After investment received start-ups make success of funding, corporate activities are required to open it on the timeline. Therefore, it is possible to check the activities of corporation after investment through timeline o OpenTrade
[ Corporate Information Peruse Member Inquiry Service ]
What is Corporate Information Peruse Member Inquiry Service?
It is a service that can check investors who inquired corporate information through list and statistical data. You may check which investor is interested in the corporate and have sustainable communication. You may peruse limitlessly with 5000won per month (30days).
Is it possible to refund?
It is impossible. Please be careful before payment.
What are the payment methods?
Deposit without a bankbook, account transfer, and payment with credit card is possible.
Can tax receipt be issued?
The issue of tax receipt is possible for individual licensee and corporate licensee. Please inqure to 02-2051-9979 when requesting for the issue of tax receipt. If paying with a credit card, according to [Enforcement Ordinance of Additional Tax Law Article 57 Clause 2], credit card sales slip can have purchase tax amount deduction as a substitution of tax receipt.
Are cash receipt issued?
Yes, they are. Please contact 02-2051-9979.
[ Business Partners ]
What is the Business Partners?
It is a platform that connects cooperative parters for pre-entrepreneurs and start-ups and a space that enables corporations of various fields needed for business of start-up corporation such as consulting, accounting, judicial affairs, product development, prototype production.
How can I use the Business Partners?
User may search various kinds of enterprises needed for business or foundation such as consulting, product development, prototype production, mass production, marketing, distribution and commerce. Also, users may confirm specific information and business contents through pages of enterprises and may inquire needed parts as they leave questions through timeline.
[ Funding, Premium Service ]
Can I get funding right after I register membership?
If application for funding meets all the requirement, function to enable request will be activated automatically.
&lt Requirements for crowdfunding application &gt
1. It should be a corporation.
2. Investor followers of funding applying start-up should be over 30 people.
3. The days of joining OpenTrade of funding applying start-up should be over 30 days.
4. Funding applicant start-up should complete its own business model, team composition, differnce/ key capability, and intellectural property.
5. Funding applicant start-up should post management matters of the corporation on its timeline at least 30 times.
6. Milestione contents should be posted (Incorporation/Achievement of BEP included); 10 steps must be entered.
7. Main video should be included. (Introducing corporation, products, or service)
If I want to receive funding, what should I do?
After satisfying the requirement for application possibility, users should display enterprise ability such as ppublic relations through timeline to let people know of potential and growth of our enterprise. Also, please fill out 'Business Model' that corresponds to a business plan. It is also significant to show sense of realism of corporation through video pitching.
How long does it take for an user to receive investment after applying for funding?
In principle, 30 days is set as the funding processing period. Please public relation to acquaintance and friends. Also, please bring out active participation of other users within OpenTrade. Crowdfunding is not something that wishes others to invest, but to put public relations as the priority, and achieving the goal through cooperative public relation using social network with acquaintance. Please don't forget that you can bring out investment of common mass, when everyone does his or her best.
Can pre-entrepreneurs or individual licensee receive investment?
At this point in time, only the start-ups in forms of corporation are allowed to apply for funding.
Is there a limitation to the amount of money for funding application?
The amount of money for funding application has been limited to 0.7 billion won in recent 12 months.
Is it possible to apply for small amount?
The amount of money for funding application may start from ten million won at least.
Are the coporations which had applied for funding credible?
The corporations that had applied for funding are the ones that had satisfied requirements for the funding application. The corporation had been acting for more than one month, piled up the growth record for enterprise more than 20 times, and had secured more than 20 investor followers. However, these records does not guarantee that these corporations are the object worthy of investment. Please have a correct understanding first that the investment to start-ups is doing investment with the risk and along with their responsibility.
How is the profitability of investment?
Investment to start-ups, or first-starting enterprises are stock investment that participates to the stakes in the unlisted company so please note that it is highly different from financial products that guarantee profitability and operation payback. Also, since the corporations which had applied for funding are starting corporations, this cannot guarantee 'going concern.'

However, if you were successful when you invested with risk, you may gain high profit. We suggest that you use collective intelligence, the strength of crowdfunding, and exchange opinions with various investors and act prudently about the decisions on investment of corresponding corporation. If you perceive it as the investment that secure the principal, investing to the OpenTrade is undesirable.
What happens if the company goes bankrupt suddenly after the investment?
Stock investment crowdfunding can be considered as the individual investor who is married to the corporation when investor is stock investing. Therefore, it is becoming the partnership relationship to various changes such as the growth and shut down of corporation. When the corporation is shutting down, the damage may arise to the investment money in the process of accounting.
How is the funding process procedure?
Investment Application (same effect with submission of investment bids -> signing of a contract between investee company and investors (designated law firm or in a written form) -> deposit of investment (to designated bank account of corresponding enterprise) -> completion of registration for corporate capital increase -> Unissued stock certificate, certificate of payment of shares, and issuing of list of stockholders.
Is it possible to collect money back if the mind has changed during the process period after deposit of the investment money?
Before the day of subscription, it is possible. However, since it goes through procedure of registration, it is impossible after the day of subscription.
What is Premium Service?
Premium service is a service that provides management function to investment portfolio and management of interested corporation and it is charged.
I would like to apply for premium service, what should I do?
Premium service is accepted through help@opentrade.co.kr at present and is possible to use after paying the fee. It will be provided for free until 10 and extra 10 unit will cost twenty thousands won per month.
What are the payment methods?
At present, only a deposit without a bankbook is available. Online payment service will be provided soon.
Can tax receipt be issued?
A tax receipt (separate VAT) is issued to individual, or corporate investors. If not a licensee, individual cannot issue tax receipt but issue cash receipt.
Can I issue the receipt for cash?
Yes it is possible. Please do not hesitate to contact 02-2051-9979
[ Others ]
How can I compose Milestone?
Milestone is a summary of a business plan related to the growth or a corporation and is an important result that enables the step for growth of enterprise. In cases of start-ups, 10 stages ,and in cases of pre-entrepreneurs, 5 stages are required. In cases of start-up, 'incorporation' and 'achievement of monthly BEP' should necessarily be included and in casese of pre-entrepreneur, the last stage 5 should be 'Incorporation.'
In cases of start-up, should Milestone satisfy 10 stages?
It must be composed of 10 stages. It is to have the information be evaluated in same standard to investors.
Is there a risk to leak corporate information such as Business Model?
It is best to self-defend corporate information by securing intellectual property right. Also, it is best not to expose corporate information that may concern. If the investor asks for those data, please use secret messages. Please emblemize that says 'Leak of this information that corresponds to corporate business secret' to the data that are being sent.

For reference, by putting phrase and indication that says 'Trade Secret' to business models within OpenTrade, it emblemized grounds for the defense such as the minimum copyright.
Is it possible to amend and delete after writing Milestone and Business Model?
It is possible to amend Business Model, but it is a principle not to have users amend Milestone after stage 1 is spproved.
Please carefully write Milestone because it is impossible to amend Milestone except special cases
What are things to note when writing Milestones?
When applying for approval of Milestone, it will be approved only when you attach objective evidentary material.